Anasayfa > > Identifying Changes: The Transition from Bronze to Iron Ages in Anatolia and its Neighbouring Regions

Identifying Changes: The Transition from Bronze to Iron Ages in Anatolia and its Neighbouring Regions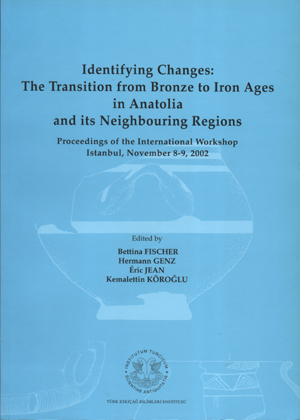 Identifying Changes: The Transition from Bronze to Iron Ages in Anatolia and its Neighbouring Regions
Anadolu'da ve komşu bölgelerde Tunç çağlarından Demir çağına geçiş konulu uluslararası atölye çalışmasında sunulan bildirler.
Fischer, B. - E. Jean - H. Genz - K. Köroğlu (Eds.)
2003 – Istanbul
317 pages
ISBN: 9789758070633
---
Contents
Opening
Ali DİNÇOL
Welcoming Speech of the President of the Institute
Güven ARSEBÜK
"Change" in an Anthropoarchaeological Perspective
Bettina FISCHER - Hermann GENZ - Eric JEAN - Kemalettin KÖROĞLU
Introduction
Session 1: Aegean, Balkans and Western Anatolia
Jak YAKAR
Identifying Migrations in the Archaeological Records of Anatolia
Anna Lucia D'AGATA
Crete at the Transition from Late Bronze to Iron Age
Magda PIENIAZEK-SIKORA
Some Comments on Northwest Pontic and North Aegean Settlement Architecture in the last Quarter of the Second Millennium BC
Ralf BECKS
Troia VII: the Transition from the Late Bronze Age to the Early Iron Age
Session 2: Cilicia, Cyprus and the Levant
Bettina FISCHER
Immigration versus Continuity: A View from the Cypriote Sanctuaries
Ekin KOZAL
Analysis of the Distribution Patterns of Red Lustrous Wheel-made Ware, Mycenaean and Cypriot Pottery in Anatolia in the 15th-13th centuries B.C.
Eric JEAN
From Bronze to Iron Ages in Cilicia: The Pottery in its Stratigraphic Context
Remzi YAĞCI
The Stratigraphy of Cyprus WS II and Mycenean Cups in Soli Höyük Excavations
Aslı ÖZYAR
Architectural Reliefs in Anatolia through Time: Contextualizing the Gate Sculptures of Karatepe-Aslantaş/Azatiwataya
Ann E. KILLEBREW
The Southern Levant during the 13th-12th Centuries BCE: The Archaeology of Social Boundaries
Session 3: Southeastern Anatolia
Lynn SWARTZ DODD
Chronology and Continuity in the Early Iron Age: The Northeastern Side of the Amanus
Uwe MÜLLER
A Change to Continuity: Bronze Age Traditions in Early Iron Age
Andreas SCHACHNER
From the Bronze to the Iron Age: Identifying Changes in the Upper Tigris Region. The Case of Giricano
Session 4: Central and Northern Anatolia
Ulf-Dietrich SCHOOP
Pottery Traditions of the Later Hittite Empire: Problems of Definition
Hermann GENZ
The Early Iron Age in Central Anatolia
Hasan BAHAR - Özdemir KOÇAK
Konya-Hatunsaray Yerleşmesinde Erken Demir Çağı Çanak Çömleği
Mehmet ÖZSAİT
Les Ceramiques du Fer Ancien dans les Regions d'Amasya et de Samsun
Şevket DÖNMEZ
The Early Iron Age Problem in the Central Black Sea Region
Session 5: Eastern Anatolia and Caucasus
Kemalettin KÖROĞLU
The Transition from Bronze Age to Iron Age in Eastern Anatolia
Jan-Krzysztof BERTRAM
Tradition und Wandel im spaeten 2./frühen 1. Jahrtausend v. Chr. im Südkaukasusgebiet
Session 6: Natural Sciences
Hitomi HONGO
Continuity or Changes: Faunal Remains from Stratum IId at Kaman-Kalehöyük
Catherine KUZUCUOĞLU
Environmental Changes in Southern (Antalya) and South-eastern (Euphrates Valley) Turkey at the End of the 2nd Millennium BC and Beginning of the 1st Millennium BC
Salima IKRAM
A Preliminary Study of Zooarchaeological Changes Between the Bronze and Iron Ages at Kinet Höyük, Hatay
Angela von den DRIESCH - Nadja PÖLLATH
Changes from Late Bronze Age to Early Iron Age Animal Husbandry as Reflected in the Fanual Remains from Büyükkaya/Boğazköy-Hattusa
Simone RIEHL - Mark NESBITT
Crops and Cultivation in the Iron Age Near East: Change or Continuity?
Session 7: Final Discussion
Betina FISCHER - Hermann GENZ - Eric JEAN - Kemalettin KÖROĞLU
Perspectives for Identifying Changes?